K-9 Trax
Vanderburgh County Sheriff's Department
Friday, November 4, 2011
Handler:
Deputy Sheriff Kevin Hertweck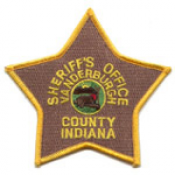 Incident Details
Cause of Death:
Gunfire (Accidental)
Date/Time of Incident:
Friday, November 4, 2011
Incident to Death Duration:
Same day
Incident Location:
3900 block of Old Henderson Road, Evansville
Incident County:
Vanderburgh
Incident Township:
Union
Weapon Used:
Officer's handgun
Suspect Disposition:
Charged
   K-9 Trax was accidentally shot and killed by his handler after three pit bulls attacked the dog at a home on 3900 block of Old Henderson Road in Evansville.
   K-9 Trax, a male German Shepherd, was accompanying his handler and three other deputies as they served a probation warrant on a subject.
   When they arrived at the home they ordered the man to put the dogs up, but the man refused, and instead opened the door and let the dogs out to attack the deputies.
   As one of the dogs attacked K-9 Trax, his handler attempted to shoot it, but accidentally shot K-9 Trax fatally.
   The 39-year-old man who released the dogs was charged with battery.